From MarketingProfs.com:


You're the Top, You're the Louvre Museum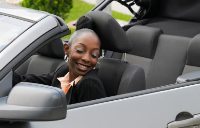 No doubt about it: corporate images are important, and many companies work very hard to cultivate them. But how do specific corporate images (eg, an image of being innovative, trustworthy, socially conscious) affect customers' impressions of the products a company makes? In some instances, quite a lot.
Research shows that when a company comes out with a new product, customers use the associations they have made to the company in evaluating the product. Furthermore, the type of image that the firm has affects whether and how much they like the new product. For instance, when a new product has a higher price tag:
Companies with images of being innovative and/or trustworthy get better results. People tend to "like" the new pricey brands better, and see them in a more positive light. (Think: BMW's latest model.)
Companies with images of being socially responsible see virtually no impact of their image on customers' evaluations of an expensive new brand. (Think: any pricey hybrid vehicle? Just speculating here.)
In short, this research indicates that customers tend to be more willing to trust a pricey product's quality when they already trust the company, and see it as being on the cutting-edge in terms of product development.
The Po!nt: Image affects spending. If you offer pricey products, make sure your image is ironclad: trustworthy, and ahead-of-the-crowd.
Source: When Corporate Image Affects Product Evaluations: The Moderating Role of Perceived Risk. Gürhan-Canli, Zeynep; Batra, Rajeev. Journal of Marketing Research, 2004.
Sphere: Related Content