Earlier today I featured tips on how to get the Press to visit. Now here's even more tips on how to be PR friendly:


Dinner-Party PR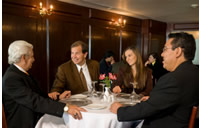 In a post at Silicon Alley Insider, Jason Calacanis says start-up companies don't have to splash out $10,000-a-month retainers—or even hire in-house PR—to get the right exposure. These are only a few of his recommendations if you want great do-it-yourself PR:
Always pick up the check—always. When Calacanis attends conferences, he cultivates deep relationships with a select group of attendees by hosting small dinner parties. "You can trade cards on LinkedIn, but you can't break bread there," he says. "In the real world break bread, don't trade contact information." These meals don't come cheaply—costing around $1,000 apiece—but when you compare the outlay to the cost of a PR firm, they look like a bargain. "Buying dinner at a conference ten times a year will cost you about one month's worth of PR," he notes. You not only have the chance to network, people will remember that you treated them to a meal.
Learn about the journalists you pitch. Calacanis advises research that includes reading the last five stories a reporter wrote, checking out the comments and looking for reactions from other journalists and bloggers. If you want journalists to be interested in you, he says, "take some interest in them."
Invite people to "swing by" your office. Make a habit of giving everyone an open invitation to drop by if they're ever near your headquarters. According to Calacanis, many reporters actually take him up on the offer. "Journalists and bloggers LOVE to visit a location because it helps them tell your story," he says.
The Po!nt: Calacanis puts it like this: "My philosophy of PR is summed up in six words: be amazing, be everywhere, be real."
Source: Silicon Alley Insider. Click here for the complete post.
Sphere: Related Content