One of the keys to a blog for your business, is that it allows a dialog with your customers, even the unhappy ones. Check this out:


Don't Censor Online Feedback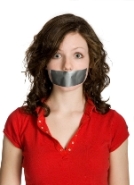 Nobody likes negative feedback. On the Internet, where anonymity often breeds bad manners, complaints left on your Web site can feel especially scathing. It's tempting to block comments entirely or to delete those that criticize your product or service.
Natalie Ferguson, who blogs at Duct Tape Marketing, suggests re-thinking the value of negative comments. "I have yet to see an example of bad feedback actually hurting a good company." She explains her position with the following three points:
Nobody's perfect. It's only natural that some customers will have issues. In fact, a page full of blazingly happy and unanimous feedback is more likely to raise suspicions than allay concerns.


It might be the only feedback you get. People who won't write a letter or make a phone call might leave an online comment. "Embrace it," says Natalie. Use the input as constructive criticism to improve your business.


Respond with a positive solution. Promptly and openly resolve the issue with a free replacement, a discount or an explanation. You may win back a customer. You'll certainly impress other readers.
In short: Allowing negative feedback on your Web site might bruise your ego, but it's unlikely to hurt your business if you handle it well. Your willingness to publicly deal with problems might even enhance your credibility and build more customer loyalty.


Source: Read Duct Tape Marketing to learn more about why you don't want to turn off comments.

Sphere: Related Content