Once you start a blog, it is important to post regularly.

So what is regularly?

Depends.

Depends on your availability to write, to have something to say, to share.

If your blog is strictly personal, like a journal, then you have more flexability.

But if your blog is an extension of your business, then it is also a part of your marketing.

Take a look at this from MarketingProfs.com:


Time For Your Blog's Checkup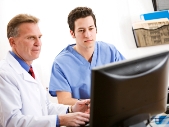 The Company Blog Checkup—an interesting series at Mack Collier's Viral Garden blog—takes an objective look at various corporate blogs, highlighting the pros and outlining the cons. Each edition is packed with info you can use to make your blog better, and the newest post sets its sights on Wal-Mart's Check Out blog. Here's an overview of the major areas Collier addresses:
Posting schedule. On his visit, the newest post was nine days old. "Not good," he says. "The month of April saw 7 new blog posts, and March had a much more respectable 15 posts. The blog claims to have 9 writers, so only having 7 posts a month from 9 writers means that someone(s) isn't doing their job(s)."
Comments. "Wal-Mart clearly outlines its comment policy on its About Page," says Collier. "Good move." But, he notes, the blog authors fail to engage readers through two-way dialogue in the comment sections—a missed opportunity to cultivate a largely enthusiastic audience.
Sidebars. This is where Collier believes the Wal-Mart blog shines, with headshots of every author and a link to their bio. "This is EXACTLY what EVERY company blog should have," he says. It also features a strong blogroll that doesn't appear to have any self-serving links to other Wal-Mart sites.
The Po!nt: Even the world's biggest company has a blog that can use improvement. "I think a more active posting schedule and more interaction with readers via comments could turn this blog into an exceptional example of company blogging," says Collier. What do you think he would say about your blog?
Source: The Viral Garden. Click here for the post.
Sphere: Related Content