There's a lot of networking going on online, but before the rise of social media, we did a lot of networking in person.

I see lots of folks that are not looking locally for connections to grow, yet with the rising costs of doing business, many could benefit from staying closer to home. Here's a few tips from the 911MarketingHelp.com newsletter:



Find Business Opportunities at Your Chamber of Commerce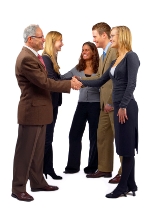 You could be missing out on remarkable networking opportunities if you aren't participating in at least one Chamber of Commerce. Take the example of MarketingProfs blogger Lewis Green, who belongs to five of these organizations.
Although his various memberships have altruistic elements, Green reports a remarkable professional payoff: Sixty percent of his work comes from fellow Chamber members, who also provide 90 percent of his referrals and leads. How do you get in on the action?
Choose a chamber. Find one or more groups that align with your marketing and networking needs.
Get involved. The best way is to serve on a committee. You can also show your support by attending morning meetings and evening events. Have fun and be yourself.
Stay committed. Play an ongoing role in the Chamber's growth and the community's improvement. Cultivate relationships and network with peers. Remember that inactivity is a waste of membership dues and, worse, a lost chance to build your business.
In short: Throw your support behind a Chamber of Commerce, and you just might get more than you give—a good example of positive ROI.

Source: Read Lewis Green's post at MarketingProfs' Daily Fix. Sphere: Related Content