More Email tips:


You've Got the Power!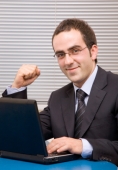 No matter how sophisticated our society becomes, it seems we still can't resist vocabulary that appeals to our basic instincts. As a result, there are certain "power" words that can significantly improve your email response rates.
Here's Karen Talavera's Top Ten List of power words you should be using in your email messages. Post it next to your computer, and don't write another line without it!
Top Ten Email Power Words
10. New. Anything that hints at novelty will spur reader curiosity.
9. Save. Everyone loves to get something for less than it's worth.
8. Safety. Volvo has built an entire brand with this word.
7. Proven. It justifies your claim, and eases fear of the unknown.
6. Love. No matter how cynical we get, we're still in love with love.
5. Guarantee. Says Talavera, "It iron-clads your offer."
4. Immediate (also: Now or Instant). Online shoppers want it now.
3. Results. A word that tends to trigger instant conversions.
2. You. Your audience wants to hear what's in it for them.
1. Free. The Number One most potent motivator in direct response. The ultimate Power Word. CAUTION: Don't overuse it.
Guarantee: Using these words well could help boost your results.
The Po!nt: These words work, if you respect them. "When it comes to power words, less is more," says Talavera. "Use them sparingly and strategically. Power words are just that—powerful—all on their own."
Source: MarketingProfs. Click to read the article.
Sphere: Related Content