One of the reasons Walter Cronkite was so popular when he was hosting the CBS evening news in my youth, was the Evening News was the only way to find out what happened.

In the 1980, CNN debuted the first 24/7 news coverage.

These days with Social Media including Twitter, anyone with a connection to the internet can report what is going on.

Take a look at what 24/7 could mean to you:


The New Downside of 24/7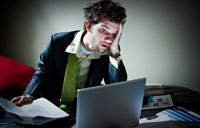 Who's that bleary-eyed chap in the corner? Why, he's the CMO who stayed up all weekend conducting WOM (word-of-mouth) damage-control—after one bad Saturday-morning customer tweet.
Welcome to the new downside of 24/7.
"Buzz isn't scheduled, especially bad buzz," says Jackie Huba in a Church of the Customer blog post. "Thanks to Twitter, it can snowball into an avalanche of angry buzz after-hours or during a weekend, just in time for the Monday-morning news, as Amazon and Motrin recently learned."
So, what's a trendy company to do? Huba put out a call to her loyal readers to find out. "Who's monitoring your brand Friday night to Monday morning?" she asked. As you might have guessed, the responses covered a range of perspectives.

Some questioned the need for weekend WOM-monitoring. "[T]he hot-spot of buzz is a small percentage of people." "[A] well-thought-out response is better than a lightning-quick response."
Others felt it was imperative. "When sites like YouTube can rack up a million views in a matter of hours, monitoring is a must." "Bloggers and Twitterers measure response in minutes and hours, not days and weeks."
Huba sums it all up: "I don't think every company in the world needs 24/7 monitoring," she notes. "But the bigger the brand, the more [it's] needed. Just ask Domino's."
The Po!nt: Go ahead and check. It's probably best to have someone, whether the summer intern or the CMO, checking your weekend customer WOM—just in case.
Source: Church of the Customer. Read the full post here.
Sphere: Related Content