From Marketing Profs.com


Have You Ever Noticed…?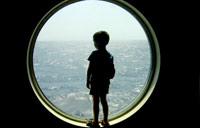 A recent ad from Carnival Cruise Lines shows an average-looking guy in a red, white and blue track suit as he wanders around a ship, sniffing everything in sight: the carpeting, the rails, the Jacuzzi, the drapes and—even—various members of the staff. It's a little weird. Finally, though, he breaks into a satisfied smile and says, "Mmm, new ship smell."
In a post at the Influential Marketing Blog, Rohit Bhargava praises the spot as an embodiment of Jerry Seinfeld's ability to create an entire story line by putting a spin on a commonplace observation. "Seinfeld stood out," he says, "because every episode expanded on some quirky truth about life we already knew but never thought about."
According to Bhargava, Carnival successfully takes the unremarkable concept of new-car smell, but makes it fresh and interesting in the context of a cruise ship. The phrase conveys a visceral sense of boarding a clean boat unsullied by years—or even months—of use. "And if you're going cruising," he says, "of course you want a new ship."
Bhargava offers this Marketing Inspiration: "[T]hink about what quirky truth your customers all know that you could focus your marketing on. Sometimes you might find your best marketing idea inspired by a show about nothing."
Sphere: Related Content