A few years ago, a friend told me how he wasted a few thousand dollars doing seminars and no one that came became a paying client. I asked him what he did to follow up with those that attended.

His answer? Nothing.

That's like making an investment and then because you don't have the cash in your pocket, saying that you lost it! I helped him with a follow up plan and he ended up tripling his investment.

Here's another way to work your marketing:


That's Amore!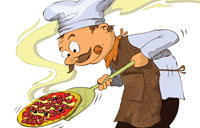 Not long ago, a MarketingProfs colleague in Orange County, California, ordered an extra-large pizza from Gina's Pizza and Pastaria—a small, local chain known for its high-quality ingredients. When he went to pick it up, the manager asked, "Do you have a coupon? I see you've purchased three of these pizzas in the past few months, and they should have had coupons on the box."
The colleague replied that he'd seen them, but the most recent one he received came with an expiration date that had already passed. On hearing this, the manager frowned and said that was unfortunate because they were hoping customers would take advantage of the various specials. "Well, why don't we use this one right now?" he said as he took a flyer from the counter, trimmed the pertinent offer and scanned it into the register. "See, we just saved almost five dollars."
It was something the manager didn't have to do. Our colleague hadn't raised the issue, and didn't mind paying the full price for the pizza. But the experience had a remarkable impact on the way he viewed the restaurant: for the relatively low cost of $4.90, Gina's converted a satisfied customer into a loyal customer.
The Po!nt: It's one thing to distribute coupons, but actively encouraging their use can take their payoff to an entirely new level.

Source: To learn more about Gina's Pizza and Pastaria, click here.
Sphere: Related Content