As always, the more specific you are in your message, the better your results. This applies to online surveys too:


Survey Says ...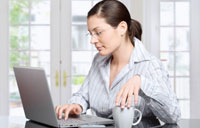 When you receive an invitation to take a survey, are you more likely to click on a link labeled Take a brief survey, or one that says Take a 5-minute survey? Suzanne Norman suspected it was the latter, and decided the hypothesis called for a test. "[A]fter all," she says at the Emma blog, "five minutes means five minutes, whereas 'brief' may just be marketing-speak for 'the longest survey of your life, sucker.' When you're asking for someone's time, there's little question that it's good to be as specific as possible."
It turned out Norman's hunch was correct. Although the two didn't deliver dramatically different results, the specificity of a "5-minute" promise consistently outperformed the implied open-endedness of "brief." The five-minute version garnered:
An 8-percent increase in click-throughs.
A 9-percent increase in the number of people who started the survey after arriving on the page.
An 11-percent increase in the number of people who completed the 18-question survey.
"While setting an expectation [of] a specific time [limit] isn't the silver bullet to boosting your survey participation numbers," says Norman, "the people who appreciate the specificity will be [more] likely to visit, start and complete your survey."
The Po!nt: Get out that stopwatch. If you haven't done a similar "time" test with your own surveys, try it out: you might find a way to drive even greater participation.
Source: The Emma Blog. Read the full post here.
Sphere: Related Content