First, read this to understand what two words should be used, when deciding how to brand yourself.

Then take a look at this:


How to Stand Out When Your Product Doesn't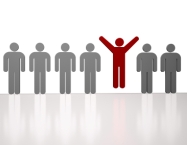 When your product or service is loaded with proprietary extras, it isn't difficult to differentiate yourself from the company down the street. But how do you stand out if your product shares many features and benefits with competing products? Jonathan Krantz has a three-step solution:
Personalize: Says Krantz, "Direct quotes, testimonials, day-in-the-life narratives, and even brief biographies can introduce the sympathetic element that allows prospects to project themselves into the experience you provide." Blending various elements can also be highly effective. Consider customer profiles, for instance, that mix laudatory third-person biographies with direct quotes.

Illustrate: Bullet points won't do the job if they're the same bullet points your competitor uses. Instead, use evocative terms. As an example, Krantz cites Harry & David pears that are "so big and juicy, you need to eat them with a spoon."

Demonstrate: Rather than focusing on the specifics of your product or service, show how your company delivers on its promises. This is where your Web site becomes a critical tool: Offer anything from white papers and streaming videos to employee profiles and helpful tips. In other words, sell clients on the solidity of your company.
The Po!nt: "When ordinary features-and-benefits-based communications fail to distinguish your business from the pack," says Krantz, "it may be time to take your messages somewhere else—into the heart of the customer experience."
Source: MarketingProfs. Premium members can access the article here. Not a Premium member? Maybe this is a good day to become one.
Sphere: Related Content